Cans for Comments!
I really really love receiving comments here on my blog or on Facebook. It brightens my day to know my work is appreciated. So, when I stumbled across this idea, I was all for it!
Here's the deal: For one week starting right now, Monday the 8th, I will donate 1 can of food (or box) to a food bank for every comment made until the week is up. You can comment here or browse the archives and comments on older posts. Since I'm here in Germany, I'll try to find a local food bank but if that's not how they do things here, I will wait and made the donation when I'm home in the USA for Christmas.
So comment, tell your friends, and pay it forward!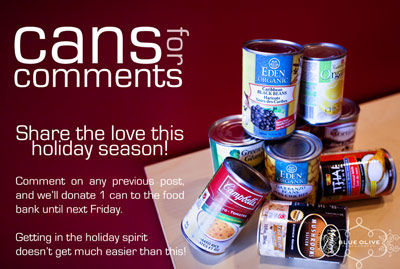 View a cool video here: http://www.jerkwithacamera.com/
See others involved: Kristel Wyman, Lori Miles, Blue Olive, The Bebbs, CJ Scott, Erin Gilmore, Amber Hughes, Jamie Delaine, Tracey Heppner, Michael Wachniak, Melissa Zihlman, John Heil, Susan, Ami J. Davenport, Jerk with a Camera, Anne Ruthmann, and Kristy, the Custom Invitation Lady.
And the awesome Chris+Lynn!!
---